Woodlands Multi speciality Hospital Kolkata
Woodlands Multi speciality Hospital Kolkata is established in 1946, Woodlands Hospital, the flagship of Eastern India started as a secondary care unit and gradually developed as a Tertiary Care Unit over the years.
In our 70 years of journey, we have touched the lives of millions of patients of Kolkata, Eastern India and other neighbouring countries.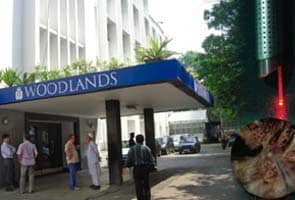 Since its inception we are committed to provide highest standard of medical care which matches the global benchmark with extreme sensitivity to patient needs and privacy.
OUR VISION:To position Woodlands as the most trusted and admired healthcare provider of choice in Eastern India.
OUR MISSION: To be a patient centric organisation offering our patients an experience filled with care and empathy which exceeds their expectations.
QUALITY POLICY :Woodlands Hospital, Kolkata, is established with the purpose of providing international standards of healthcare. We are further committed to achieve patient centric care, clinical excellence and safety of patients, their relatives and staff with the aid of trained medical, non-medical and paramedical professionals.
Woodlands is credited to be pioneer in the field of Cardiac Surgery and Cardiology in Eastern India with initiation of heart care program in mid 80's. Some of the stalwarts who have graced our institute are Dr. Sudhanshu Bhattacharya, Dr. A K Bardhan, Dr. Bhabatosh Biswas, Dr Suresh Chauraria, Dr S B Roy and Dr. Debal Sen.
This department offers comprehensive cardiac care having flat panel Philips catheterization lab, dedicated 20 bedded coronary care unit (ICCU), finest modular OTs, 15 bedded CTVS ICU , tope of the line Non Invasive technology including high end 4D Echocardiography, Stress Test (TMT) and Doppler and Duel source 128 slice Cardiac CT.
A team of 20 Senior Interventional Cardiologists with round the clock (365 x 24) availability of Interventional cardiologist is our unique offering.
Our cardiac surgery program is among the most established program with experience of over 20,000 heart surgeries and 50,000 Cath lab procedures (Angiography, Angioplasty, Pacemaker implantation etc).
Hospital Services:
Woodlands Hospital Bronchoscopy
Woodlands Hospital EBUS (Endo Bronchial Ultra Sound)
Woodlands Hospital Thorac oscopy
Woodlands Hospital Whole Lung Lavage
Woodlands Hospital Sleep studies
Woodlands Hospital NIV therapy
Woodlands Hospital ECMO
Woodlands Hospital Consultation
Woodlands Hospital Child Vaccination
Woodlands Hospital Blood Test
Woodlands Hospital Blood Pressure Test
Woodlands Hospital Pet Scan
Woodlands Hospital X Ray
Woodlands Hospital Radiology
Woodlands Hospital CT Scan
Woodlands Hospital Health Checkup
Woodlands Hospital ENT Treatment Unit
Woodlands Hospital Newborn Screening
Woodlands Hospital Oncology
Woodlands Hospital ICU
Woodlands Hospital Obstetrics & Gynaecology
Woodlands Hospital Pediatrics
Woodlands Hospital Accident & Trauma Care
Woodlands Hospital Pregnancy Problems
Woodlands Hospital Ultrasound
Woodlands Hospital Cashless Mediclaim
Woodlands Hospital Antinuclear Antibody (Ana) Test
Woodlands Hospital Amniocentesis
Woodlands Hospital Bilirubin Test
Woodlands Hospital Biophysical Profile
Woodlands Hospital 3 Way Sterilization
Woodlands Hospital IV Sedation
Woodlands Hospital Cervical Cap
Woodlands Hospital Complete Blood Count
Woodlands Hospital Chorionic Villus Sampling (Cvs)
Woodlands Hospital C-Reactive Protein Test
Woodlands Hospital Depo-Provera
Woodlands Hospital Pediatric
Woodlands Hospital Electrocardiogram (ECG)
Woodlands Hospital Laparoscopy
Woodlands Hospital Hysteroscopy
Woodlands Hospital Bleach/Bleaching
Woodlands Hospital ICSI
Woodlands Hospital Glucose Tolerance Test
Woodlands Hospital Glucose Challenge Test
Woodlands Hospital HBA1C Test
Woodlands Hospital ECG
Woodlands Hospital HPV Test
Woodlands Hospital Mammogram
Woodlands Hospital Health Screening
Woodlands Hospital Vaccinations
Woodlands Hospital PCOS/PCOD & women related disorders
Woodlands Hospital Prothrombin Time Test
Woodlands Hospital Normal & High Risk Pregnancy
Woodlands Hospital Insertion of CUT
Woodlands Hospital IUI-Intrauterine-insemination
Woodlands Hospital Rhesus (Rh) Factor Test
Woodlands Hospital Infertility
Woodlands Hospital Haemogram
Woodlands Hospital Ultrasonography
Woodlands Hospital Ultrasound Imaging
Woodlands Hospital Endoscopy
Woodlands Hospital Menstrual Disorders Management
Woodlands Hospital Stress Test
Woodlands Hospital Abortion Centre (Approved)
Woodlands Hospital Pregnancy Care & Ultrasound
Woodlands Hospital PCOD & Breast Problems
Woodlands Hospital SGOT Test
Woodlands Hospital SGPT Test
Woodlands Hospital VDRL Test
Woodlands Hospital X-Ray
Woodlands Hospital Skin Services
Woodlands Hospital Vaginoplasty
Woodlands Hospital Abortion
Woodlands Hospital Isolation NICU
Woodlands Hospital Valvuloplasty
Woodlands Hospital Post Natal Program
Woodlands Hospital Maternal ICU
Woodlands Hospital IUI
Woodlands Hospital Magnetic Resonance Imaging ( MRI)
Woodlands Hospital Doppler Ultrasound
Woodlands Hospital Arthroscopy
Woodlands Hospital Knee Braces For Osteoarthritis
Woodlands Hospital Joint Replacement Surgery
Woodlands Hospital Physiotherapy for Sports Injury Rehabilitation
Woodlands Hospital Arthritis Management
Woodlands Hospital Fracture Treatment
Woodlands Hospital Orthopedic Physiotherapy
Woodlands Hospital Bone ScanWoodlands Hospital Laboratory
Woodlands Hospital Neuro Surgery
Woodlands Hospital Spine Rehabilitation
Woodlands Hospital Orthopaedics
Woodlands Hospital Accident and Emergency Care
Woodlands Hospital Poisoning
Woodlands Hospital Hear Attack
Woodlands Hospital Nosebleeds
Woodlands Hospital Pulmonary Embolism
Woodlands Hospital Heat Exhaustion
Woodlands Hospital Intestinal Obstruction
Woodlands Hospital Neurogenic Shock
Woodlands Hospital Tetanus Shots
Woodlands Hospital Ventricular Tachycardia
Woodlands Hospital Cats and Dogs bite
Woodlands Hospital Incision Care
Woodlands Hospital Mechanical Ventilation
Woodlands Hospital General Anaesthesia
Woodlands Hospital Neuro Anaesthesia
Woodlands Hospital Cardiac Anaesthesia
Woodlands Hospital Monitored
Woodlands Hospital Monitored Anesthesia Care
Woodlands Hospital Bariatric Metabolic Surgery
Woodlands Hospital Bone Grafting
Woodlands Hospital Palliative Cancer Care
Woodlands Hospital Gynaec Cancer Treatment
Woodlands Hospital Cancer Pain Management
Woodlands Hospital Cancer Surgery
Woodlands Hospital Breast Cancer Early Detection
Woodlands Hospital Breast Cancer Surgery
Woodlands Hospital Laparoscopic GI Cancer Surgery
Woodlands Hospital Paediatric Cardiology
Woodlands Hospital Cardiac Bypass Surgery
Woodlands Hospital Cardiovascular and Pulmonary Physiotherapy
Woodlands Hospital Cardiovascular Disease
Woodlands Hospital Carotid Ultrasound
Woodlands Hospital cardiothoracic surgery
Woodlands Hospital Diabetic Care
Woodlands Hospital Home Care Physiotherapy
Woodlands Hospital Joint Pain Physiotherapy
Woodlands Hospital Stroke Rehabilitation
Woodlands Hospital Hormonal Imbalance
Woodlands Hospital Health Check Up Packages
Woodlands Hospital Back & Neck Pain
Woodlands Hospital MusculoSkeletal Manual Therapy
Woodlands Hospital Postural Correction
Woodlands Hospital Spine Problems
Woodlands Hospital Headache
Woodlands Hospital Brain Tumors
Woodlands Hospital Pediatric Opthalmology Service
Woodlands Hospital Viral Fever Treatment
Woodlands Hospital Paediatric Neurology
Woodlands Hospital Obstructive & Constructive Pulmonology Diseases
Woodlands Hospital Laparoscopic Surgery
Woodlands Hospital Kidney Stones Treatment
Woodlands Hospital Metabolic Diseases
Woodlands Hospital OPD Services
Woodlands Hospital Interventional Radiology
Woodlands Hospital Interventional Neuro Radiology
Woodlands Hospital Heart Transplantation
Woodlands Hospital Head & Neck Onco Surgeries
Woodlands Hospital Gynec Laproscopy
Woodlands Hospital General Surgeries
Woodlands Hospital General Spine Surgeries
Woodlands Hospital General Pulmonology
Woodlands Hospital General Laparoscopy
Woodlands Hospital Onco Laparoscopy
Woodlands Hospital General Gynecology
Woodlands Hospital General Paediatrics
Woodlands Hospital General Dental Procedures
Woodlands Hospital Renal Failure
Woodlands Hospital Spine Deformities
Woodlands Hospital Surgical Oncology
Woodlands Hospital Valve Replacements
Woodlands Hospital Varicose Veins Laser Therapy
Woodlands Hospital Vascular Bypass Surgeries
Woodlands Hospital TURP
Woodlands Hospital Gastrointestinal Surgeries
Woodlands Hospital Reconstructive Surgeries
Woodlands Hospital Movement Disorder
Woodlands Hospital Weight Loss/Gain
Woodlands Hospital Epilepsy Surgery
Woodlands Hospital Endoscopic Procedures
Woodlands Hospital Diagnostic Pathology
Woodlands Hospital Devise Closure & Pacemaker
Woodlands Hospital Craniotomy
Woodlands Hospital Colonoscopy
Woodlands Hospital Invisible Braces
Woodlands Hospital Smile Designing
Woodlands Hospital Aligners
Woodlands Hospital Epilepsy
Woodlands Hospital Cough Management
Woodlands Hospital Fever Management
Woodlands Hospital Backpain Management
Woodlands Hospital Pregnancy
Woodlands Hospital Laser Fissure Surgery
Woodlands Hospital Laser Fistula Treatment
Woodlands Hospital Laser Piles Treatment
Woodlands Hospital Video Counselling
Woodlands Hospital Face To Face Counselling
Woodlands Hospital Vision And Refraction
Woodlands Hospital Autism Treatment
Woodlands Hospital Tonsillitis Treatment
Woodlands Hospital Sinus Treatment
Woodlands Hospital Ear Reconstructive Surgery
Woodlands Hospital FUT Hair Transplant
Woodlands Hospital FUE Hair Transplantation
Woodlands Hospital Pediatric Oncology
Woodlands Hospital Urine Stone
Woodlands Hospital Prostate Laser Surgery
Woodlands Hospital Male Sexual Dysfunction Treatment
Woodlands Hospital Diabetes
Woodlands Hospital Osteopathy
Woodlands Hospital Diet/Lifestyle Counselling
Woodlands Hospital Sexual Problems
Woodlands Hospital Aesthetic Treatments
Woodlands Hospital Fissure Treatment without Surgery
Woodlands Hospital Piles Treatment without Surgery
Woodlands Hospital Pediatric Occupational Therapy
Woodlands Hospital Diabetic Foot Specialist
Woodlands Hospital Varicose Veins
Woodlands Hospital Gynae Problems
Woodlands Hospital Natural Cycle IVF
Woodlands Hospital Braces & Crowns
Woodlands Hospital Kidney Transplant
Woodlands Hospital Skin Whitening
Woodlands Hospital Invisible/Clear Braces
Woodlands Hospital Stroke/Paralysis Management
Woodlands Hospital Sport Injury Rehabilitation
Woodlands Hospital Diabetic Diet Counselling
Woodlands Hospital Bariatric Diet Counselling
Woodlands Hospital CGHS and DGHS Facility on Hearing Aid
Woodlands Hospital 2D Echo and Color Doppler
Woodlands Hospital Hearing Aids
Woodlands Hospital 24 Hours Emergency Radial Route Angiography and Angioplasty
Woodlands Hospital Neuro Physiotherapy
Woodlands Hospital High Risk Pregnancy
Woodlands Hospital Acne/Scar Treatment
Woodlands Hospital Laser Hair Removal Treatment
Woodlands Hospital Infertility Evaluation/Treatment
Woodlands Hospital PCOS/PCOD Treatment
Woodlands Hospital Weight Loss Treatment
Woodlands Hospital Stress Management
Woodlands Hospital Thyroid
Woodlands Hospital Intimacy Issues
Woodlands Hospital Individual Counseling
Woodlands Hospital Emotional Distress, Anxiety, and Depression
Woodlands Hospital Psychosexual Problems
Woodlands Hospital Stress at Work
Woodlands Hospital Personal and Professional Growth
Woodlands Hospital Mental Health ProblemsWoodlands Hospital PCOD
Woodlands Hospital Direct Hair Transplant/Implant (DHT/DHI)
Woodlands Hospital Hearing Loss
Woodlands Hospital Cryotherapy
Woodlands Hospital FUE/FUT Hair Transplant
Woodlands Hospital PRP Hair Transplant
Woodlands Hospital Infertility Treatment
Woodlands Hospital Male and Female Fertility
Woodlands Hospital In Vitro Fertilisation (IVF)
Woodlands Hospital Implant Center
Woodlands Hospital Cosmetic Dentistry
Woodlands Hospital Allergies Rhinitis and Snoring Treatment
Woodlands Hospital Psychotherapy
Woodlands Hospital Advanced Root Canal Treatment
Woodlands Hospital Hearing Aid and Speech Therapy
Woodlands Hospital Ear Nose Throat and Head & Neck Surgery
Woodlands Hospital Cosmetic Treatments
Woodlands Hospital Burns and Reconstruction Surgery
Woodlands Hospital Acupuncture
Woodlands Hospital Gynaecological Care & Counselling
Woodlands Hospital Maternity Care
Woodlands Hospital Root Canal Treatment (RCT)
Woodlands Hospital Scaling/Polishing
Woodlands Hospital Dental Services
Woodlands Hospital Porcelain Veneer
Woodlands Hospital ENT Endoscopy
Woodlands Hospital Neck Pain Physiotherapy
Woodlands Hospital Spinal Rehabilitation
Woodlands Hospital Consultation and treatment of Spine and Related Problems
Woodlands Hospital Spinal Cord Injury Treatment
Woodlands Hospital Minimally Invasive Spine Surgery
Woodlands Hospital Joint and spine Disorder
Woodlands Hospital Knee Pain Treatment
Woodlands Hospital Joint Pain
Woodlands Hospital Diarrhea Treatment
Woodlands Hospital Back Pain Treatment
Hospital Doctors:
Dr. Sabyasachi Mitra
20 years experience
Psychiatrist
Dr. Abharajit Roy
Dr. Lalit Kumar Agarwal
DM – Nephrology
28 years experience
Nephrologist/Renal Specialist
Dr. Suman Das
Dr. Sattyen Burman
MD – Medicine, FRCP
35 years experience
Internal Medicine
Dr. Soumitra Chandra
MBBS, MS – General Surgery, Fellowship of Indian Association of Gastrointestinal Endo Surgeons (FIAGES)
27 years experience
General Surgeon , Laparoscopic Surgeon
Dr. Suparna Chowdhuri
MBBS, MD – Obstetrics & Gynaecology
17 years experience
Obstetrician , Gynecologist , Infertility Specialist
Dr. Amlan Kusum Jana
MBBS, DPM (Psychiatry), M.D. (Psychiatry)
15 years experience
Psychiatrist
Dr. Prasenjit Chatterjee
MBBS, Diploma in Radio Therapy, DNB – Radiation Oncology, MD Radiation Oncology
25 years experience
Radiation Oncologist
Dr. Sayan Ganguly
MBBS, MS – ENT, DNB – Otorhinolaryngology
23 years experience
ENT/ Otorhinolaryngologist
Hospital Departments:
Woodlands Hospital Accident & Emergency Care
Woodlands Hospital Anesthesiology
Woodlands Hospital Bariatric Surgery
Woodlands Hospital Cancer Care
Woodlands Hospital Cardiology and CTVS
Woodlands Hospital Critical Care Medicine
Woodlands Hospital Dental Medicine
Woodlands Hospital Dermatology
Woodlands Hospital Diabetes & Endocrinology
Woodlands Hospital Ear, Nose & Throat
Woodlands Hospital Fetal Medicine
Woodlands Hospital Gastrointestinal Sciences
Woodlands Hospital General & Hepatobiliary Surgery
Woodlands Hospital General Medicine
Woodlands Hospital General Surgery
Woodlands Hospital Genetics
Woodlands Hospital Geriatric Medicine
Woodlands Hospital Growth & Hormone
Woodlands Hospital Health Check
Woodlands Hospital Home Care
Woodlands Hospital ICU & Critical Care
Woodlands Hospital Internal Medicine
Woodlands Hospital IVF & Infertility
Woodlands Hospital Laboratory Medicine
Woodlands Hospital Neurology and Neurosurgery
Woodlands Hospital Nuclear Medicine
Woodlands Hospital Nutrition and Dietetics
Woodlands Hospital Obstetrics & Gynecology
Woodlands Hospital Ophthalmology
Woodlands Hospital Organ Transplant
Woodlands Hospital Orthopedics
Woodlands Hospital Paediatrics
Woodlands Hospital Pain Medicine
Woodlands Hospital Pharmacy
Woodlands Hospital Plastic & Cosmetic Surgery
Woodlands Hospital Psychiatry
Woodlands Hospital Psychology
Woodlands Hospital Pulmonology
Woodlands Hospital Radiology
Woodlands Hospital Rehabilitation Medicine
Woodlands Hospital Renal Sciences
Woodlands Hospital Respiratory Sciences
Woodlands Hospital Rheumatology
Woodlands Hospital Robotic-Assisted Surgery
Woodlands Hospital Spine Care
Woodlands Hospital Sports Medicine
Woodlands Hospital Urology
Woodlands Hospital Vascular Surgery