Why is knee replacement surgery performed?
Knee replacement, also called knee arthroplasty or total knee replacement, is a surgical procedure to resurface a knee damaged by arthritis. Metal and plastic parts are used to cap the ends of the bones that form the knee joint, along with the kneecap. This surgery may be considered for someone who has severe arthritis or a severe knee injury.
Various types of arthritis may affect the knee joint. Osteoarthritis, a degenerative joint disease that affects mostly middle-aged and older adults, may cause the breakdown of joint cartilage and adjacent bone in the knees. Rheumatoid arthritis, which causes inflammation of the synovial membrane and results in excessive synovial fluid, can lead to pain and stiffness. Traumatic arthritis, arthritis due to injury, may cause damage to the cartilage of the knee.
People requiring knee replacement usually have a problem walking straight, climbing stairs, and getting in and out of chairs. They may also experience moderate or severe knee pain at rest. Knee replacement surgery has been proven to help individuals return back to moderately challenging activities such as golf, cycling, and swimming.
The goal of knee replacement surgery is to resurface the parts of the knee joint that have been damaged and to relieve knee pain that cannot be controlled by other treatments.
What are the different types of knee replacement surgery?
The four main types of knee replacement surgery are:
Total knee replacement
Unicompartmental (partial) knee replacementkn
Kneecap replacement (patellofemoral arthroplasty)
complex or revision knee replacement.
1.Total Knee Replacement :
A total knee replacement may also involve replacing the under-surface of your kneecap (patella) with a smooth plastic dome. Some surgeons prefer to preserve the natural patella if possible, but sometimes the decision will need to be made during the operation.
Today, 90% of people in the world who have undergone TRO has experienced a drastic improvement in their knee function and pain.
2.Uni compartmental (partial) knee replacement:
There are three compartments of the knee – the inner (medial), the outer (lateral) and the kneecap (patellofemoral). If arthritis affects only one side of your knee – usually the inner side – it may be possible to have a half-knee replacement (sometimes called unicompartmental or partial replacement). Because this involves less interference with the knee than a total knee replacement, it usually means a quicker recovery and better function.
Partial knee replacements can be carried out through a smaller cut (incision) than a total knee replacement, using techniques called reduced invasive or minimally invasive surgery. A smaller incision may further reduce the recovery time.
Partial knee replacement isn't suitable for everyone because you need to have strong, healthy ligaments within your knee. Sometimes this won't be known until the time of surgery.
3.Kneecap replacement (patellofemoral arthroplasty):
A kneecap replacement involves replacing just the under-surface of the kneecap and its groove (the trochlea) if these are the only parts affected by arthritis.
It's possible to replace just the under-surface of the kneecap and its groove (the trochlea) if these are the only parts affected by arthritis. This is also called a patellofemoral replacement or patellofemoral joint arthroplasty.
The operation has a higher rate of failure than total knee replacement – which may be caused by the arthritis progressing to other parts of your knee. Some surgeons advise a total knee replacement as the results are more predictable. Others feel that it's better to preserve the rest of the knee joint if it isn't affected by arthritis…
4.Complex or revision knee replacement
A complex knee replacement may be needed if you're having a second or third joint replacement in the same knee, or if your arthritis is very severe.
Some people may need a more complex type of knee replacement. The usual reasons for this are:
major bone loss due to arthritis or fracture
major deformity of the knee
weakness of the main knee ligaments.
How should I prepare for knee replacement surgery?
Plan early : Even before you set a date, think about how an operation will affect your life. Things may be stressful after joint replacement for at least a few weeks. Prepare now to make the surgery go smoothly and to speed up your recovery.
Ask questions :Gets specific information from your doctor. How long will the surgery take? Could I have the surgery as an outpatient, without a hospital stay? What type of anesthesia will you need? What kind of rehab will you get? What type of assistive devices will I need at home after the procedure? Should you bank blood before the procedure? How long will you likely be off work? Write down the answers. Better yet, have a trusted friend or family member come to your appointment to take notes.
Move and lose it : If possible, try to get in better shape before your surgery. You'll recover more quickly if you're physically fit. Ask your doctor which exercises you should do before the operation. Working your arms and upper body, for example, will make it easier for you to get around on crutches or a walker. If you're heavy, aim to drop some weight to lighten the stress on your knees.
Quit smoking: If you use cigarettes or other tobacco products, stop or cut down. Smoking slows your recovery and makes your wounds take longer to heal. It also raises your chances of complications and infection during and after the surgery.
Practice :Before surgery, learn the physical therapy exercises you'll need later. Try them out. If you get used to them now, they'll be easier to do later. If you'll need crutches or a walker, test drive those, too.
Jot it down : Chances are, you'll be asked for the same medical and insurance information over and again in the coming weeks. Carry a handy list of:
All your medication and supplements
Any health conditions you have
Your insurance policy and membership numbers
Your doctors' names and phone numbers
Persons to contact in an emergency
Fortis Hospital, Mumbai
Fortis Hospital, Mumbai
It is the fastest growing hospital in Mumbai as it has the best doctors for knee replacement surgery in Mumbai who offer advanced treatment in all major-medical fields.
Located in the prime location in Mumbai, it is accessible easily via rail, road etc. It has a specialized orthopedics and joint replacement department which is a pioneer in knee transplant and other knee related surgeries in India. Knee replacement surgery cost in fortis can be at higher side as this hospital is considered to be ecpensive. It is to be considered the best hospital for knee replacement surgery in India.
Address: Fortis Hospital, Mulund Goregaon Link Road, Mulund-West, Mumbai 400078
2. P.D Hinduja National Hospital,Mumbai
P. D. Hinduja National Hospital is a super multi-specialty hospital with NABH accreditation. It is the leading hospital in all types of orthopedic and joint surgery.
The orthopedic surgeons in this hospital is highly competent in knee transplant and the success rate of knee transplant surgery is very high.
Address: P. D. Hinduja National Hospital, Veer Savarkar Marg, Mahim, Mumbai, Maharashtra 400016
3. Manipal Hospitals, Bangalore
It is one of the best ranked hospitals in Bangalore with expertise in all major medical fields.
The orthopaedic department in Manipal Hospital is the most capable in Bangalore and people from nearby cities also travel to this hospital to get treatment.
Address: 98, HAL Airport road,Bangalore – 560 017
4.Apollo Hospital,Bangalore
Apollo Hospitals is one of the prestigous hospitals in Bangalore and is present in three major locations in Bangalore.It is approved and certified by the Joint Commission International (JCI), USA for its excellence in medical services.

It provides treatment in all types of orthopaedic surgeries. The hospital provides advanced treatment and is preferred by even international patients because of its high class treatment. The main reason for being so successful is that the knee replacement surgery cost in India are highly competitive in comparison with other developed country hospitals.
Address: Bannerghatta Road, Opposite IIM, Bangalore – 560076, India
5.Columbia Asia Referral Hospital,Bangalore
Columbia Asia Referral Hospital is a major multi-specialty Hospital in Bangalore. It is a comparatively new hospital and within a short period of time it has earned a reputation as being one of the best hospitals in Bangalore.
It is the place if you are looking for low cost knee replacement surgery. It has a very talented and experienced team of doctors who offer excellent treatment in all medical fields. Though the hospital is comparatively new the orthopaedic department offers treatment in all types of joint replacement. Also, the hospital provide spine surgery services including knee transplant surgery.
Address: Brigade Gateway, Malleshwaram, Beside Metro Cash and Carry West, Yeshwanthpur, Bangalore – 560055, India
6. St. John's Medical College Hospital,Bangalore
St.John's Medical College hospital in Bangalore offers super specialty services to provide complete care.
The hospital has a team of dedicated and highly competent members of the medical fraternity along with trained personnel who work with sophisticated state-of-the-art equipment. The hospital has 24 full-fledged departments to provide specialty and super specialty services which includes anaesthesiology, clinical psychology, dental surgery, emergency medicine, clinical nutrition, general medicine, dermatology etc.
Address: St.John's National Academy of Health Science, Sarjapur Road, Bangalore – 560034, India
7. BLK Super Speciality Hospital, Delhi
BLK Super Speciality Hospital is an NABH and NABL accredited hospital in Delhi. The hospital has world-class technology and the best internationally acclaimed doctors to provide quality health care to all the patients.
It provides sophisticated treatment specifically in orthopaedics and joint surgery. This hospital considered to be best knee replacement surgery hospital in Delhi. Various hospitals in Delhi has different cost but this hospital has different packages for knee replacement surgery cost in Delhi.
Address: BLK Super Speciality Hospital, Pusa Road, Rajinder Nagar, New Delhi, Delhi 110005
8. Indraprastha Apollo Hospital, Delhi
Indraprastha Apollo Hospitals is one of the major hospitals in Delhi providing excellent service for about fifty two specialties.

It is the first hospital in India to be accredited and certified by Joint Commission International (JCI) consecutively for the fourth time. Being the oldest branch knee replacement surgery cost in apollo Indraprastha is less comparitively
Address: Indraprastha Apollo Hospitals, Delhi Mathura Road, Near Jasola Apollo Metro Station, Sarita Vihar, New Delhi, Delhi 110076
9. Max Super Specialty Hospital,Delhi
Max Super Specialty Hospital is one of the leading hospitals in Delhi.The hospital offers hi-tech infrastructure and provides world-class healthcare services with high success rate
They excel in providing procedures such as valvular heart surgery, kidney transplant, knee transplant , bone marrow transplant, bariatric surgery.
Address: Max Super Specialty Hospital, Press Enclave Road, Saket, New Delhi, Delhi 110017
10. Shalby Hospitals – Ahmedabad
Their first hospital, Vijay Shalby, was established by Shalby Orthopaedic Hospital and Research Centre, one of their Group Entities, in the year 1994.
Since 2004, the operations of Vijay Shalby have been undertaken by Shalby Limited is one the leading multispeciality hospitals in Ahmedabad and India today, offering a healthcare spectrum all under one roof. Shalby believes in making available affordable expert healthcare at the with its Hospitals & Patient Outreach Clinics to various parts of INDIA, especially, the tier- II & tier III cities. It runs a chain of hospitals in Vapi, Jabalpur, Indore, Jaipur and Punjab. Its been established as a knee-replacement centre in Ahmedabad at 1994, by Dr.Vikram shah .The hospital were certified by National Accreditation Board for Hospitals & Healthcare Providers (NABH) in March 2010. By late 2016, the organisation claimed to have performed more than 85,000 joint replacement procedures.
Address: Opp. Karnavati Club, S G Road, Ahmedabad – 380015, Gujarat, India
11. Moolchand Orthopedics Hospital,New Delhi
Its known globally for orthopedics treatments. Under one roof you will get all the facilities for diagnostics, surgical, medicinal and therapeutic services.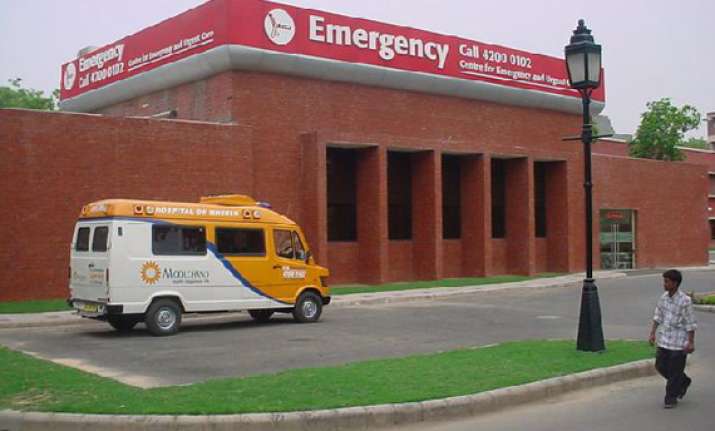 There are esteemed panel of doctors like Dr. Akash Sabharwal, Orthopedic Surgeon (Sport Injury, Knee & Shoulder surgery, Arthroscopy),Dr. J.S. Arora, Orthopedic Surgeon (Joint replacement & spine care),etc. It was India's first hospital to have started the minimal access surgery .Moolchand orthopedics hospital has also been started with a view to have specialized hospitals for all different major issues.
Address: Lajpat Nagar III, Near Moolchand Metro Station, New Delhi 110 024, India
12. Artemis Hospital,Gurgaon
Its 1st hospital in Gurgaon to have received accreditation from prestigious institutions like National Accreditation Board for Testing and Calibration Laboratories (NABL) and Joint Commission International (JCI).
Centre of Joint Replacement & Orthopaedics Centre, are dedicated to provide the best possible care available to people of all ages. Orthopaedic department has become the regional resource and preferred referral destination for orthopedic problems.
Address: Sector 51, Gurgaon, Haryana-122001
13. SL Raheja Hospital, Mumbai
SL Raheja hospital is an offshoot of the prestigious Fortis health-care chain. The Orthopedic & Joint Replacement department of SL Raheja is a multi-disciplinary unit run cohesively by orthopedic surgeons, specialists, spine surgeons for providing best of treatment to patients.
It is accredited by the National Accreditation Board for Hospitals & Healthcare Providers (NABH). Quality of reports is assured by EQAS (External quality assurance services) and PT (Proficiency testing). As different hospitals in Mumbai has varied cost but this hospital has good packages for knee replacement surgery cost in Mumbai.
Address: Raheja Rugnalaya Marg, Mahim West, Mumbai:400016
14. Hosmat Hospital, Bangalore
Hosmat Hospital is know for its specialist Orthopedic treatments. It is a chosen entity for orthopedic patients in Bangalore and surrounding regions becaue of their perfect infrastructure and latest techniques.
It is ISO9002 – TUV certified hospital. It also includes Hosmat Joint Replacement Center and HOSMAT Neurosciences. It is known as the center for Knee transplantation procedures.
Address: # 45 Magrath Road, Off Richmond Road, Bangalore – 560 025 INDIA
Procedure :
Generally, knee replacement surgery follows this process:
 You will be asked to remove clothing and will be given a gown to wear
An intravenous (IV) line may be started in your arm or hand.
You will be positioned on the operating table.
A urinary catheter may be inserted.
If there is excessive hair at the surgical site, it may be clipped off
The anesthesiologist will continuously monitor your heart rate, blood pressure, breathing, and blood oxygen level during the surgery.
The skin over the surgical site will be cleansed with an antiseptic solution.
The doctor will make an incision in the knee area.
The doctor will remove the damaged surfaces of the knee joint and resurface the knee joint with the prosthesis. The knee prosthesis is made up of metal and plastic. The most common type of artificial knee prosthesis is a cemented prosthesis. Uncemented prostheses are not commonly used anymore. A cemented prosthesis attaches to the bone with surgical cement. An uncemented prosthesis attaches to the bone with a porous surface onto which the bone grows to attach to the prosthesis. Sometimes, a combination of the 2 types is used to replace a knee. 
The prosthesis is generally comprised of 3 components: the tibial component (to resurface the top of the tibia, or shin bone); the femoral [thigh bone] component (to resurface the end of the thighbone; and the patellar component (to resurface the bottom of the kneecap that rubs against the thighbone)
The incision will be closed with stitches or surgical staples.
A drain may be placed in the incision site to remove fluid.
A sterile bandage or dressing will be applied.
How Should i Prepare for Procedure?
Pre Investigations:
Blood tests to check for anaemia and to make sure your kidneys are working properly
An MRSA swab to check that you're not carrying resistant bacteria
A urine sample to rule out infection
An electrocardiograph (ECG) tracing to make sure your heart is healthy.
After Procedure:
Hospital Stay : After the surgery you will be taken to the recovery room for observation. Once your blood pressure, pulse, and breathing are stable and you are alert, you will be taken to your hospital room. Knee replacement surgery usually requires an in-hospital stay of several days.
It is important to begin moving the new joint after surgery. A physical therapist will meet with you soon after your surgery and plan an exercise program for you. A continuous passive motion (CPM) machine may be used to begin the physical therapy. This machine moves your new knee joint through its range of motion while you are resting in bed. Your pain will be controlled with medication so that you can participate in the exercise. You will be given an exercise plan to follow both in the hospital and after discharge.
At Home ; Take a pain reliever for soreness as recommended by your doctor.
Notify your doctor to report any of the following:
Fever
Redness, swelling, bleeding, or other drainage from the incision site
Increased pain around the incision site
The cost of knee replacement in India is less in comparison to other countries in the USA, Singapore, and the UK. Owing to this, there has been a noteworthy upswing in the number of foreign visitors traveling to India for knee replacement each year, in addition to other orthopedic treatment and procedures.
The knee replcement surgey cost in India is approximately between Rs. 200000.00 to Rs. 350000.00 ($3,076 to $5,348) that makes knee replacement cost in India quite low compared to the western countries.
For a single knee replacement. You will have to pay Rs. 400000.00 to Rs. 600000.00 ($6,153 to $9,230)
For the bilateral knee replacement surgery done in a single sitting or Rs. 450000.00 to Rs. 650000 ($6,923 to $10,000)
Given here is the cost comparison between knee replacement cost in India with cost in various countries :
| | |
| --- | --- |
| Countries | Cost in Indian Rupees |
| India | Rs. 595000.00 ($8500) |
| USA | Rs. 2450000.00 ($35000) |
| United Kingdom | Rs. 1680000.00 ($24000) |
| Singapore | Rs. 1330000.00 ($19000) |
| Thailand | Rs. 840000.00 ($12000) |
However, the knee replacement surgery cost in India will depend on various factors such as:
Choice of the hospital: Comparing the knee replacement surgery cost in India's high-end hospitals with other hospitals.
Doctor's expertise: A doctor charges for his skills. A specalist who is experienced would be most looked for. For whom those cannot afford the costly doctors can find a expert who charges a less fee.
Additional costs: There are additional cost in knee replacement surgery. It includes the following cost of hospitalization, type of ward and nursing staff,treatments for post-surgical infections, etc.
Type of implants used: You can choose from different type of implants which are available. The choice of implants will cause a significant difference in the overall expenditure. The imported ones are costlier than the Indian ones and affect the total cost of knee transplant in India.
Tests and diagnostics: Apart from the basic Knee Replacement Surgery Cost in India you will also have to include the cost of various tests and diagnosis to your final total. Not to forget the charges for follow-ups and rehab treatment.
Accommodation: As you will have to spend some time here post the knee replacement in India, you will have to shell out a substantial amount for it. This will automatically make a difference in your overall Knee Replacement Surgery Cost in India.
Benefits and Risks of Knee Replacement Surgery
Total knee replacement can increase mobility and decrease pain in people who have an injured or arthritic knee joint. More than 90 percent of patients who have knee replacement surgery experience less pain and greater mobility in their knee after the procedure.
Risks associated with total knee replacement depend in part on the age and overall health of the patient. People with serious heart or lung problems usually are not good candidates for knee replacement surgery. Chronic health conditions (e.g., diabetes) can increase the risk for complications.
Complications from knee replacement surgery, such as infection or blood clots, can interfere with recovery. In general, fewer than 2 percent of total knee replacement surgeries result in serious complications.
« Previous
1
2